RealObjects Enterprise Solutions and Services are designed to help you streamline the integration and configuration of our suite of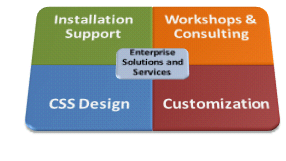 content authoring and electronic publishing components. Our experts have many years experience and in-depth knowledge of the RealObjects product suite, helping you to increase efficiency, lower costs and meet your project schedule.
Companies that utilize our services gain more than a technical solution. They benefit from our services in many ways:
Accelerate the implementation of RealObjects technologies and reduce risk
Gain increased technical capabilities at a fraction of the cost of staffing up your own team
Quickly adapt latest features, functions and APIs
Speed time to market by streamlining and more efficiently integrating RealObjects technology
Maximize productivity by concentrating on the core value of your business instead
Benefit from best practices and a pool of expertise
Avoid disasters through proactive procedures
Our Enterprise Solutions and Services are of a collaborative effort which involves working together in an assistive manner helping you or your in-house development team to make RealObjects technologies quickly and efficiently work.